January 2020
HEINZMANN is pleased to announce the acquisition of the UK company Giro Engineering Ltd. with effect from the January 6th, 2020. From this date forth, Giro Engineering Ltd. has become a part of the HEINZMANN Group.
Giro Engineering continues to operate as a standalone business from its office and production site in Southampton and remains a UK company. The fuel injection pipework products of Giro are an ideal complement to the existing product range of the HEINZMANN Group providing application tailored system solutions with forward-looking technology to the diesel engine industry.
Giro - Growth-enhancing partner for the HEINZMANN Group
HEINZMANN and Giro Engineering Ltd. operate as specialists in the components market for diesel engines. Significant value is achieved through this strategic partnership. Both businesses have clear synergies which will provide opportunities for further growth and bring along great benefit for the companies' customers.
Founded in 1980, Giro has continually developed and enhanced its product range which has led to a global customer base including many of the world's premier engine builders.
The company specialises in the design and manufacture of single and double walled high-pressure fuel injection pipes for a vast range of diesel engines. The product range now covers more than 1000 different engine types. The current key component is the "Duoline" sheathed fuel pipe.
Giro utilises class leading design tools to create products that are compliant with the latest regulations, have Lloyds type approval and deal with all major classification societies. The company maintains an effective quality management system conforming to ISO 9001:2015.
HEINZMANN strengthens its position as system provider
HEINZMANN has more than 120 years of experience with speed governing of industrial combustion engines. The new partnership will enable HEINZMANN to operate on the market as a complete systems supplier and consolidate its position worldwide. Markus Gromer, CEO of the HEINZMANN Group, says: "HEINZMAN continually pursues the strategy of supplying a comprehensive catalogue of high-quality systems to engine builders and MRO organisations. This acquisition completes the range of components developed and manufactured in-house for our Common Rail Systems".
This provides the company the flexibility to offer perfectly designed products to meet specific customer requirements.
The HEINZMANN Common Rail Fuel Injection Systems consists of
High-Pressure Pumps HDP-K Series
Solenoid-controlled Fuel Injectors ICR-DS series
Safety Valves & Rail Pressure Limiting Valves RPLV
Accumulators & Distributor Blocks
High-pressure Piping
EFI-controller MVC 01-24
Cable Harness
Sensors
HEINZMANN Common Rail Systems meet the requirements of major classification societies.
Through the new partnership, HEINZMANN will further strengthen its position as a global system supplier for diesel-operated engines.
Customers benefit from the joint expertise and the synergies by getting the perfect solution for their application.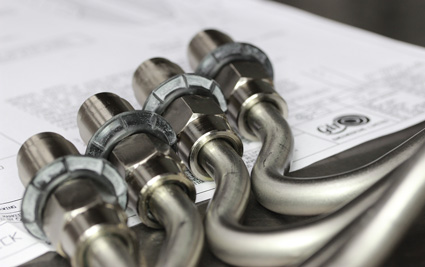 High-pressure sheathed fuel pipes for Common Rail Systems featuring stainless steel outer tubing
(Source: Giro Engineering Ltd.)
Leakage alarm tank assembly with level float switch
(Source: Giro Engineering Ltd.)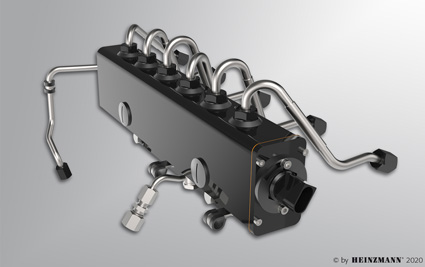 Common Rail Piping System
(Source: Heinzmann GmbH & Co. KG)
Common Rail Complete Systems Solutions from HEINZMANN
(Source: Heinzmann GmbH & Co. KG)

Contact and press requests: This email address is being protected from spambots. You need JavaScript enabled to view it.